Synod Assembly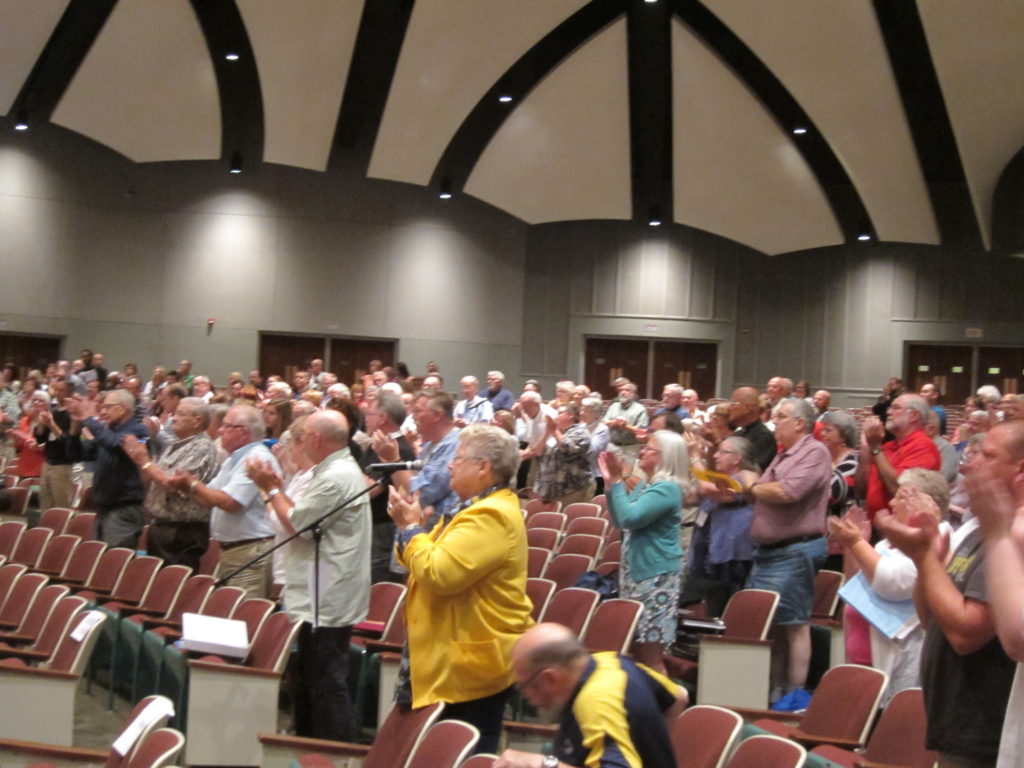 Scroll down this page for the Bulletin of Reports
The Synod Assembly is the highest legislative authority of this synod.  "The priorities of the assembly are worship, edification, and the legislative business of the synod, conducted with the greatest possible involvement of those entitled to participate." (USS Constitution S7.11.02)
The 30th Annual Assembly of the Upper Susquehanna Synod will be held at Susquehanna University on June 16-17, 2017.  The theme of this year's assembly is "Together in Mission:  Relating and Reforming."  Guest speakers and musicians from the ELCA's Global Mission Team will be with us, including Sunitha Mortha as our ELCA Churchwide representative.  Items of business include adopting the 2018 budget and making changes to the synod constitution.  Register now!
---
All rostered leaders and voting members from every congregation are expected to attend.  Clergy need to write an excuse to the bishop if you cannot attend.  NEW FOR 2018:  Meal tickets must be be pre-ordered and cannot be purchased at Susquehanna University.
---
Singers Needed for Assembly Choir:  You are invited to sing as part of the choir that will provide musical leadership for the Eucharist on Saturday, June 17, at 2:00 p.m. in Weber Chapel Auditorium at SU.  In addition to leading the liturgy and hymns, the choir will prepare special music for the service.   Adult and high school singers who would like to sing in the Assembly Choir should have some choral experience in church and/or school.  Being able to read music is helpful but not required. One rehearsal is scheduled for Sunday, June 5, from 2:00 – 3:30 p.m. in the chapel of Zion, Sunbury.  We will also have one, perhaps two, opportunities to rehearse with the Glocal Team during the Assembly (both on June 17).  If you plan to sing in the choir or have questions, please contact David Reier at dreier@ptd.net or 570-847-3435.
---
Pages Needed for Synod Assembly:  Calling all youth (who have completed at least sixth grade), college students, and seminarians!  The 2017 USS Synod Assembly is looking for pages.  You'll be needed on Friday and Saturday, June 16-17, from 7:45 a.m. until the end of the day's business (5:00 p.m. on Friday and 3:30 p.m. on Saturday).  Responsibilities include handing out papers, bulletins, and other materials as well as serving as ushers for worship and counting votes when asked. All pages receive meals and a free T-shirt!  If you have interested youth, please send their names and T-shirt sizes to brenda@uss-elca.org.
---
Live Tweet from Upper Susquehanna Synod Assembly:  We will also live "tweet" from our synod assembly.  This year, we invite others to also tweet from the assembly and use this hashtag:  #usselca17.  If you'd like to see what is happening at assembly in June, search for the Twitter hashtag or visit our Facebook page at www.facebook.com/usselca. 

---
Susquehanna WiFi:  If you are bringing a laptop/IPad or some other internet device to use during assembly, we recommend you download the Bulletin of Reports prior to coming.  We have been assured by the staff of Susquehanna University that the Wi-Fi will be sufficient for our use, but having it downloaded prior to the event makes the most sense.  This would also promote the reading of the material prior to coming to the assembly!  The other option, for those not utilizing technology, is to have the congregation provide their voting members with a hard copy of the bulletin of reports.  Click here for information on SU's WiFi service.
---
Bulletin of Reports:  Below is the online Bulletin of Reports site for the 2017 Upper Susquehanna Synod Assembly! Reports will be uploaded as they become available, so please check back to see what's new!
AVAILABLE NOW: Entire Bulletin of Reports in one file
Also, the following is a file of just "the essentials" you will need at Assembly:
---
Assembly Business
Download all this section in one document here
---
Synod Leaders
Download all this section in one document here
---
Synod Ministries
Download all this section in one document here
---
Related Organizations
Download all this section in one document here
---
Synod Rosters and Lists

Download all this section in one document here
---
USS Constitution