Becoming a Rostered Leader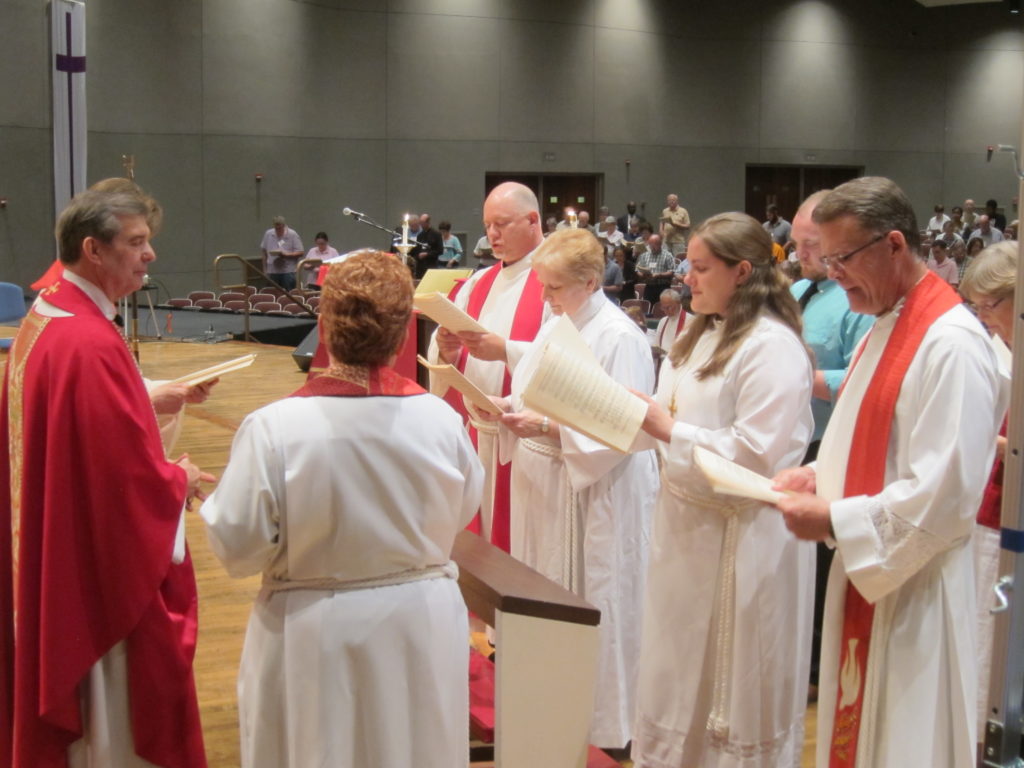 How does someone become a rostered leader in the ELCA…an ordained minister (pastor), associate in ministry, diaconal minister, or deaconess? It's not so simple a matter as just finding a church open to hiring you, or even just applying to seminary! This page takes you step by step through the process of becoming a rostered leader through the Upper Susquehanna Synod. A similar process exists throughout the other 64 synods of the ELCA.
The journey begins with Discernment, which may lead a person to consider Candidacy. An Application for Candidacy starts the Candidacy process, beginning with Entrance, continuing through Endorsement, and ending with Approval. Approved candidates enter the Churchwide Assignment process, making themselves available for Call. The Call of a congregation enables a candidate's instatement to the roster of ordained ministers through ordination, to the roster of associates in ministry through a service of commissioning, or to the rosters of diaconal ministers or deaconesses through a service of consecration.
To read more about candidacy on the ELCA website, visit www.elca.org/candidacy.
DISCERNMENT
God calls every person to be many different things…a child of God, perhaps a sibling, a friend, a spouse, a mentor, a parent, a neighbor…  But many people wonder about the work God may be calling them to do, whether it's paid or volunteer work.  How do you know?  How does God work in our lives to lead us in one direction or another?  More importantly, what's God trying to tell ME?
"Discernment" is the ongoing process of listening for God's voice calling you forward. We discern through our own prayer and worship life, through conversations with others who know us well, through honest reflection upon our gifts and on the kind of work that charges us up. We discern through our experiences of serving others and sharing with them the love of Christ. We discern through reading Scripture and other relevant books, by meeting with spiritual directors or in small group ministries, through journaling, taking classes, going on retreat…and in many other ways. If you asked a dozen rostered leaders how they discerned God calling them to ministry, you'd probably hear a dozen different answers.  If your discernment leads you to believe that God is calling you to consider public, professional (rostered) ministry in the ELCA, you may be ready to consider applying for Candidacy.
If reading helps you to think such things through, here's a list of great resources to consider in discernment processes (either for ordained ministry or other areas of your life. Here are some resources (open file here). In fact, all of these titles are available for loan from the Upper Susquehanna Synod office (see list here).
WHAT IS CANDIDACY?
"Candidacy" is the process through which the ELCA raises up, prepares, certifies, and places rostered leaders in our church.  "The candidacy process is a partnership among candidate, synod, seminary, candidacy committee and the Vocation and Education unit. The candidacy committee of your synod acts on behalf of the ELCA in discerning with you the rostered ministry to which you are called: ordained or lay (Associate in Ministry, Deaconess, or Diaconal Ministry). In the Lutheran tradition, a person's individual or internal sense of call to ordained, commissioned, or consecrated ministry must be confirmed by the larger community of the church (external call). By the power of the Holy Spirit, the candidacy process invites chosen representatives of the church to determine whether a person's character, ability, health and wellness, spiritual formation, preparation, and commitment are appropriate for the roster on which that person seeks to serve. The candidacy committee of each synod has the responsibility for approving a candidate for rostered ministry in this church. Following approval, a public call is made by a Christian assembly to the form of ministry for which the candidate has prepared."  (from a letter from Kim Beckmann, ELCA Director for Candidacy)
If you discern that God may be calling you to rostered ministry, you might begin with a conversation with your pastor (especially if you've not already had one!). (Note: applicants for candidacy must be members of an ELCA congregation for at least one year before becoming a candidate.) The congregation is where you've been rooted in your baptismal calling, serving God in various ways within the church walls and beyond. Your congregation and pastor will be important partners in your candidacy process, so you'll want to bring them into the conversation as soon as you're ready.
Next, make contact with the USS office to speak with the Candidacy Committee chair and the synod's administrator for candidacy. You will be oriented to the candidacy process, answer your questions about it, and let you know of upcoming meeting dates for the synod's Candidacy Committee which might affect the timing of your application.  The Candidacy Committee recruits persons for the professional ministry in the Church, both ordained and lay; approves, guides, and assists them in the preparation for such service; and examines and recommends persons for ordination or for certification as associates in ministry, deaconesses and diaconal ministers.
APPLICATION FOR CANDIDACY
The actual application process begins (oddly enough) with your application. To access an application form online, visit http://www.elca.org/Resources/Candidacy under "Candidates".  Next, install on your computer "Formatta Filler," the form program used throughout the ELCA. (Do so by clicking on the appropriate version for your computer frfom the links on the right sidebar on that page.) After installing Formatta, click on "Application for Entrance to Candidacy".
Complete the application form, and print out a hard copy. Follow the form's directions for securing and submitting the form electronically (goes to the ELCA churchwide office database, with a notice sent to the synod). Be certain to sign the hard copy where indicated with a "wet" signature (an actual pen-to-paper signature versus an electronic one).
Page Seven of the form describes the required autobiographical "entrance essay" that should accompany your application. Send both your signed application form and essay to: USS-ELCA, Candidacy, P.O. Box 36, Lewisburg, PA 17837. You may instead send the essay and a scanned image of your signature pages as attachments to email to bethann@uss-elca.org.
When your application materials are received, you will be sent a letter of acknowledgement and an outline of the candidacy process. Next, a "Congregational Registration" form will be sent to your home pastor with a request to complete and return it indicating your congregation's support for you as an applicant for candidacy.  The congregation will be invited to consider paying your required $500 application fee to the synod. (This fee helps to underwrite the synod's expenses of approximately $650 related to your application process.) If not, you will be responsible for paying this fee. You will also be asked to submit a transcript from your undergraduate institution, for your file.
When the "Congregational Registration" and application fee have been submitted to the synod office, a member of the Candidacy Committee will set up an Initial Interview appointment with you. The Initial Interview is a one-on-one, fact-gathering and impression-taking interview, giving you another opportunity to engage in further discernment and self-reflection, and giving a Candidacy Committee member a more thorough picture than your application form alone might provide.
After the Initial Interview, you will be contacted about how to schedule your psychological evaluation with an approved consultant, and how to register for a required background check. After reports from these agencies are received at the synod office, you'll be scheduled for your Entrance interview with the entire Candidacy Committee.
ENTRANCE
Your Entrance interview is the first of at least three meetings you will have with the Candidacy Committee throughout your candidacy process. At this interview, you and the committee explore your potential for rostered ministry and your readiness to begin theological study and the candidacy process in the ELCA. After your interview, the committee deliberates and determines whether to admit you as a candidate by granting you a positive "Entrance Decision".
You may apply simultaneously for candidacy and admission to a seminary degree program, understanding that any offer of admission to a seminary will be conditional upon your positive Entrance Decision for candidacy.
Positive Entrance Decision in hand, you are now cleared to begin your seminary degree program (if required by the roster for which you are a candidate). Some degree programs and rosters also require you to complete a unit of Clinical Pastoral Education (CPE) before the next step in candidacy. CPE is a supervised program of chaplaincy, usually in a hospital or other clinical setting, for at least 10 weeks (full-time).
ENDORSEMENT
At the end of your first year of study, you write the Endorsement Essay in preparation for your Endorsement Panel. The Endorsement Panel is composed of one seminary faculty member and two Candidacy Committee members. The Panel meets with you at your seminary, evaluating your development as a ministry leader and assessing your sense of discernment to a particular form of ministry. The Panel makes a recommendation to the entire Candidacy Committee whether to Endorse your candidacy.
You are next asked to meet with the Candidacy Committee for further conversation about your progress. The committee encourages and affirms candidates who clearly demonstrate gifts and qualities for a specific form of ministry in the ELCA, as well as identifies areas for growth and development. After your interview, the committee deliberates and determines whether to Endorse you as a candidate for a rostered ministry with a positive Endorsement Decision.
A positive Endorsement Decision enables you to begin your internship/field experience requirement after also completing all necessary academic requirements.
APPROVAL
As you near completion of your internship or field experience requirement, you write the Approval Essay in preparation for your Approval Interview. In the Approval Essay and Interview, you are expected to articulate your call to ministry and demonstrate your readiness to assume a leadership role as a rostered leader in the ELCA. The Candidacy Committee receives the recommendation of your seminary faculty and internship or field experience supervisor, and takes your entire candidacy file/process into consideration.
In a third and final interview, you are asked to meet with the Candidacy Committee for your Approval Decision. After your interview, the committee deliberates and votes whether to Approve you as a candidate for ministry with a positive Approval Decision. A positive Approval Decision affirms your character, commitment, preparation, and ability to serve as a called leader, and enables you to participate in the ELCA's assignment process.
CHURCHWIDE ASSIGNMENT
As an Approved candidate for a rostered ministry, you complete an extensive resume' form for the churchwide assignment process, indicating your particular gifts, skills, preferences and restrictions (if any) for a call to serve in the ELCA. The Churchwide assignment process assigns you to a particular ELCA synod based on the ministry needs of the church. You are next in conversation with the bishop of that synod who already has a call in mind for your consideration.
CALL
The call process may vary slightly from synod to synod, but usually entails a series of meetings, interviews, and finally a call vote by a congregation. During the call process and after receiving a call from a congregation, you discern whether this is the call God has in mind for you. If you accept the call, you and the bishop of your calling synod make arrangements for your service of ordination, commissioning, or consecration (depending upon your leadership roster). You could also be installed as a leader in the congregation at this same service.
Congratulations! You are now a rostered leader in the ELCA, serving God through the church in a specific ministry setting, held in a relationship of mutual accountability between yourself as a leader and the church as the body of Christ whom you represent.