Lay Ministry Institute
The Lay Ministry Institute…a Mission need…a Spirit-filled opportunity…a Spirit-guided response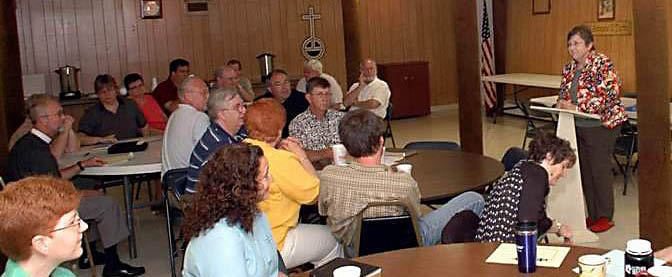 Lay Ministry Institute Board administers the programs of the Lay Ministry Institute (LMI) whose mission is to educate and equip lay people for theologically sound ministry. The Lay Ministry Institute is under the office of the bishop of the Upper Susquehanna Synod which provides oversight and accountability to its programs, and which authorizes lay leaders for ministry in our congregations.  Currently, training is provided for the following lay leaders:
Lay Worship Leaders are trained to lead worship, preach, and preside in congregations of the Upper Susquehanna Synod.  With the bishop's written permission an Authorized Lay Worship Leader may preside at the Eucharist of a particular congregation on a specific date.  This is the only LMI program in which all applicants must seek the bishop's authorization at program's end.
Lay Evangelists are trained to tell the story of the Gospel in various ways, and to encourage and train others to do the same.
Lay Christian Educators are trained to assist in a congregation's catechetical (Christian education) ministries.
Read the Lay Ministry Institute Handbook to learn how the LMI program works in our synod today and read about its history.  Current authorized lay leaders may download the following to submit for annual renewal of authorization:
Application to the Lay Ministry Institute
Participants in the programs of the LMI are active, confirmed, communing, and contributing members of Upper Susquehanna Synod congregations. They are recognized as leaders by their congregations, uphold the highest standards of the Christian life, are faithful in their personal lives, and agree to live by the standards expressed in Vision and Expectations: Ordained Ministers in the ELCA. They work closely with a mentoring ordained minister (usually the pastor of their home congregation) throughout the training process.
Applications to participate in a lay leader program of the LMI include the following:
Completed application form, including basic personal information, prior church leadership experience, and answers to questions about the applicant's spiritual formation.
Contact information for three personal references (other than the applicant's pastor).
An autobiographical essay reflecting the applicant's process of discerning this call to service.
A completed and signed statement from the applicant's pastor, including a letter of reference.
A letter of reference from the applicant's Congregation Council.
Original reports from required background checks.
A personal interview with a member of the LMI Board.
Tuition of $1050.
Applications for authorization by the bishop at their program's end also include the following:
Agreement and signature to a Statement of Commitment for authorized lay leaders.
Completion of and signature to an ELCA Standards Questionnaire for authorized lay leaders.
To apply to take part in the next class of Lay Worship Leaders, click here for a fillable LMI Application Form.