Stewardship
Stewardship Resources:
"Where Offerings Go"

 

(see also article below)
PowerPoint presentations done by Chick Lane at 2014 Bishop's Day and at an event for congregations.  Lane is the author of Ask, Thank Tell: Improving Stewardship Ministry in Your Congregation and loves working with congregations. Chick has extensive consulting experience helping churches articulate God's mission for them, identify ways God is already working in the congregation, craft a compelling vision for the congregation's future, and raise the funds needed to accomplish that vision.
From Bishop's Day
Session 1: Biblical Look at Stewardship
Session 2: How is it with you and money
Session 3: Rostered Leaders are Steward Leaders
Session 4: Stewardship is More Than a Season
From the Congregational Event
Session 1: A Biblical Look at Stewardship
Session 2: Two Ways to Talk About Money
Session 4: Stewardship is More Than a Season
---
Where Do Our Offerings Go?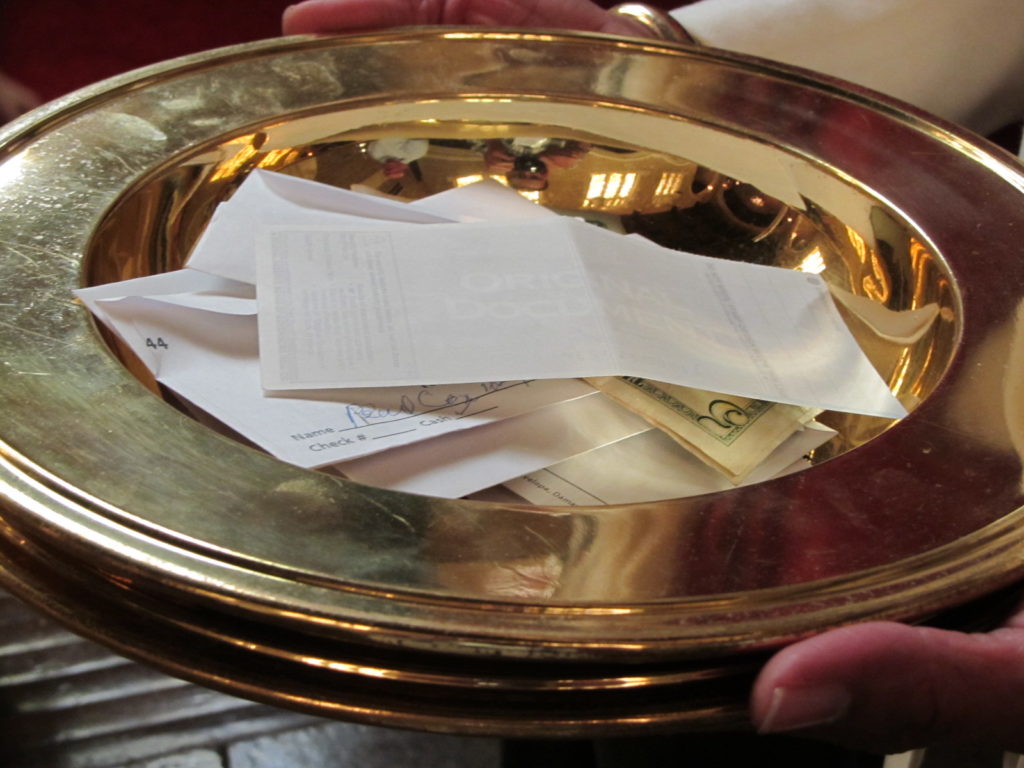 Many people may wonder where their "mission support" or "benevolence" money goes when they put their envelope in the offering plate.  As congregation councils prepare budgets, the question of why support is needed for the larger church often becomes a point of discussion.  Well, your mission support dollars help us work together to do ministry in the name of our risen Lord, Jesus Christ.
You really do not have to look too hard or too far to see your mission support dollars at work.  From the time of its inception in 1988, the Evangelical Lutheran Church in America (ELCA) has been understood as one church in three expressions:  congregations, synods, and the churchwide organization.  This interdependent relationship is consistent with how the mission and ministries of the ELCA are funded.  As partners that share in the responsibility for carrying out God's mission, all three expressions share in the responsibility to develop, implement, and strengthen this church's financial support.
Your weekly offering supports the mission of the whole ELCA doing God's work in the world.  A large part of your offering stays right in your congregation to support your congregation and local ministries.  If your congregation gives 10 percent of offerings for mission support, that means that one dime from every dollar given in the offering plate goes to the synod.  The Upper Susquehanna Synod keeps a nickel of that dime and uses these funds for local programs, including small church grants and our companion synod programs.  In addition, money is allocated to these:  Camp Mount Luther ($48,000); Campus Ministriest Penn State, Bloomsburg University, Penn College, Mansfield University, and Lock Haven University ($30,569); Lutheran Theological Seminary at Gettysburg ($20,800); Lutheran Advocacy Ministry in PA ($5,000); Region 8, our cooperative ministry with our seven synod partners ($4,800); PA Council of Churches ($2,750); and Lutheran Development Partnership and the work of Rev. Liz Polanzke, regional gift planner ($2,500)
The rest of the synod budget is then used to support congregations and rostered leaders as they work in local communities and throughout the world.  This includes candidacy, seminary scholarships, call process, congregational crisis support, leadership development, administration, and support of all the various task forces, committees, and programs of the synod, including small church grants.  It also includes the Lay Ministry Institute, which oversees training of lay worship leaders, lay evangelists, and lay Christian educators.
Finally, half of the dime (the other nickel) goes to support the churchwide organization. Some mission funds may return to the synod and your congregation in the form of grants, services, programs, and resources. Pastor Craig Miller, the synod's Director for Evangelical Mission (DEM), works half time as Assistant to the Bishop and half time as DEM.  He receives funding for this DEM work through the ELCA.  Funds are also used for administration; new congregations; global missions, including Young Adults in Global Mission; education and preparation of pastors through support for ELCA seminaries; outreach to young adults through Lutheran early childhood education centers, Lutheran elementary schools, Lutheran outdoor ministries, and campus ministries at Lutheran colleges and public universities; the ELCA Youth Gathering; health and pension benefits for retired clergy, missionaries, and lay workers; military chaplains; World Hunger; Lutheran Disaster Response; Lutheran Immigration Services; Lutheran Social Ministry Organizations; and partnerships with the Lutheran World Federation, World Council of Churches, and National Council of Churches.   It should be noted that when members give designated gifts to specific ministries, the gifts are in addition to what is provided through the undesignated gifts given through mission support.  All this would be impossible to do if it was left to individual congregations; but as a synod of 124 congregations with a church of nearly 10,000 congregations, we are able to accomplish some pretty amazing things.  It truly is God's work with our hands.