The 5Ws and H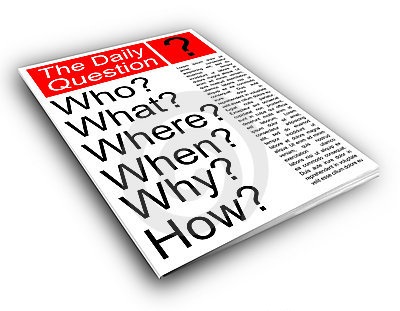 When I sit down to write something, whether it be a newsletter article, a letter, or a radio news story (for my other part-time gig), I often am stuck on where to begin.  When that happens, I typically use a technique that I started to use when I was a full-time radio journalist.  It was drilled into me in my journalism classes in college that to tell a complete story you must answer the 5Ws and H and give your reader a reason that they should be reading your story.
You've probably heard about the 5Ws and H- who, what, where, when, why, and how.  When you are writing, you need all the basic details and expand on each of those elements.  If you have those, who can tell the whole story.
In my last blog post (almost five months ago, so if you need to read it again, here it is), I asked you to think of some story ideas that are happening in your congregation that might be newsworthy.  Did you think of some?  Well, once you have that item, you'll need to gather some information so that you can promote your story.
Make a list of the details.  Answer the journalistic questions who, what, where, when, why, and how.  The media will expect to get those basic details.
I mentioned that you should also give your reader a reason they should be reading your story. Make sure your news item has relevance, impact, timeliness, or novelty.  Ask yourself the question, "Do people really want to know about this?"  Just because you think it is important, do you think the public will also think it's important?  You may want to remember that the following story types are often published and broadcast by the media: Coming Events, Timely Topics, Past Events, and Features.
Consider a photo for your story.  When looking at newspapers, readers are seven times more likely to look at pictures and read their captions than they are to read print copy.  And today, with the use of websites, broadcast media also can use pictures when they post stories they write.  So, the use of photos is critical, as is the use of quality captions.  Remember that action photos work best and have photos with people in them.  Your caption should be between two and four lines long, identify the people in the photo and state one of your key messages.  It's important to have a signed photo release from those pictured before you send the photo to the media.
Once you have these things gathered, you'll want to write a news release.  Coming soon, we will look at how to correctly write a news release. In the meantime, gather your information and be ready to write!
Chad Hershberger, Director of Communications
Upper Susquehanna Synod, ELCA